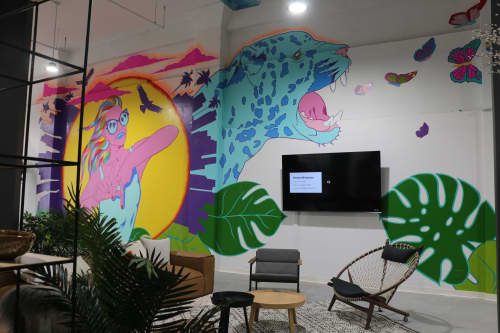 Image credit: All photos by Cecilia except 3rd to last by @theechoparker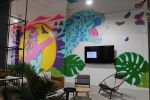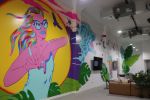 +8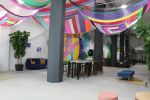 'Urban Jungle' for Knotel - Murals
Featured In Los Angeles, CA
~Interior commissioned mural for Knotel in DTLA~
Mural brief:
When Cecilia Romero was given the opportunity to design a mural based around LA culture for Knotel, her subconscious mind took over. She had a dream one night that gave her the idea for a 'concrete jungle' theme which eventually became the name 'Urban Jungle'. This mural is a dense creation of meaning and purpose. Inspired by the interconnected diversity in the city as well as the millions of people chasing their dreams and hustling everyday in Los Angeles. LA is known for being the city of dreams, as many who come here have high hopes and creative aspirations.


When you walk into Knotel's new showroom, you immediately notice the portrait to your left encompassed by the LA skyline and sunset. This female portrait represents a strong, independent woman living in the city, chasing her dreams with a clear vision. Each animal represents different feelings and ambitions within the LA dreamer. The Jaguars and lions represent the resilience and strength needed to preserver through life's daily obstacles. The butterflies emerging out of the Jaguars mouths represent the transformation, evolution and metamorphosis that come out of the grit of perseverance. Each butterfly is completely unique and also are an example of beauty in diversity and authentic uniqueness. The silhouettes of the hawks flying above the portrait represent divine guidance, and the mysterious inner wisdom that lies within your authentic self.


Life, especially in the city, can feel like a jungle with all kinds of different energies constantly in motion. This urban atmosphere can sometimes feel as wild as a jungle, whether you're simply trying to survive or you're putting your heart and soul into accomplishing something far greater than yourself.
Have more questions about this item?