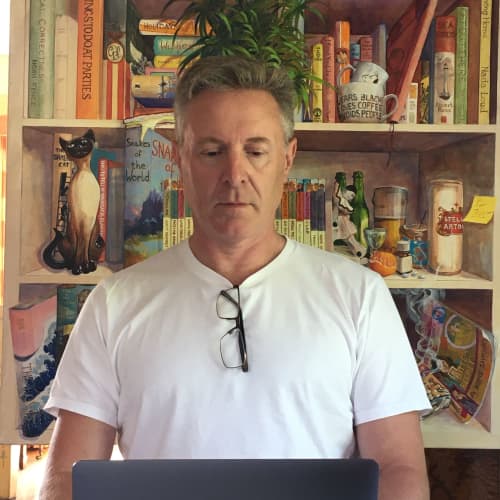 +3

In the early days of Covid-19, watching people working out how to make video calls from their homes, sometimes in front of pretentious backgrounds that they had thought through and sometimes with inappropriate and unaesthetic backgrounds that they had not considered. It became fascinating, one of my favourites was a politician who had a plant on a shelf behind him that looked like he was wearing a jaunty headdress, I kept looking closely at the books on their bookshelves, their chosen paintings, odd ceilings, wall-colours. I decided to paint this trompe l'oeil, with a pandemic theme, incorporating appropriate and silly book titles, for those who might like to impress their audience.
Measures 1m X 1m, acrylic on canvas.
Price varies price depends on size of painting and does not include transport/shipping.
As seen in
Creator's Studio
, London, United Kingdom
Have more questions about this item?