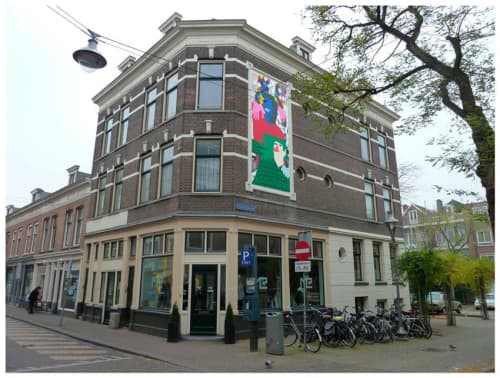 Image credit: Photography: Anuli Croon, André Dekker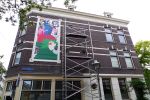 Featured In Rotterdam, Netherlands
MURAL "WIND'S UP" ROTTERDAM / OUDE NOORDEN
Wind's Up, mural, 410 x 190 cm, 2011. Realization by Mineur.
Commissioned by Centrum Beeldende Kunst (CBK) Rotterdam, Havensteder, Sonor.
– Witte Zwaanhof / Zwaanshals, Oude Noorden, Rotterdam.
Since the turn of the century, the 'Old North' district in Rotterdam has been subject to a transformation. Squares are being done up and old premises renovated. And while this old-working class area is given a facelift, the Rotterdam Centre of Visual Art has developed an art project in conjunction with Havensteder and Sonor.
It is all about the ornamental frames. These are usually found on blank walls of 19th-century premises. In the last century artists successfully made out a case for using these advertising locations for paintings and eventually, in 2011, new paintings were made inside six frames and an existing painting was restored.
One of the new works is a painting made by Rotterdam-based artist Anuli Croon, on the corner of Witte Zwaanhof and Zwaanshals.
Croon paints city dwellers: her mechanical-looking lines, the industrial areas and patterns and hard colours are far apart from any form of nature. The hair of the characters is blowing round their blue or brilliantly white faces in a cartoonish manner.
Croon's work looks as if it has been made by computer, rather than by hand. Perfectly in tune with a city like Rotterdam, these figures have been depicted monumentally and spectacularly. They almost seem to burst out of the frames.
BKOR Rotterdam
Have more questions about this item?