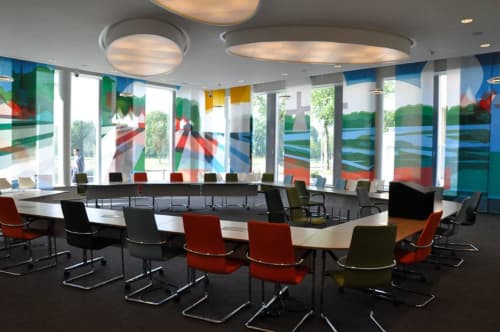 Image credit: Photography: Mariet Hendrikx, Anuli Croon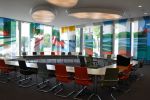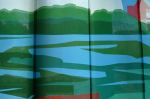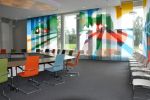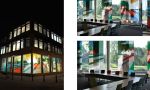 +2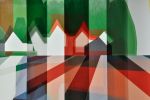 PANORAMA- HIS - ROTTERDAM 2012 - Murals
Featured In Rotterdam, Netherlands
NEW WORK OF ART IN THE BOROUGH COUNCIL OFFICE.
Last summer the borough was enriched by an artwork in the council chamber-cum-wedding room in the borough council office. It is a work by Rotterdam artist Anuli Croon.
The representation of 4.50 x 22 m. depicts the village centres of Schiebroek and Hillegersberg, situated in a green landscape abounding in water.
The cubist panorama is an eye-catching work, not only in the room itself but also when seen from the street.
The two sides of the representation are both unique plays of surfaces, patterns and colours.
The panels can be slid aside independently and thus create an abstract landscape that enters into a play with its surroundings.
The official introduction of the artwork will take place in February 2013, during that year's first council meeting.
Kaboul Vermijs, Cultuurscout HiS / 2012
____________________________________________
PANORAMA HIS, 2.200 x 450 cm, 2012.
Duplex printed on twenty panels of canvas.
The canvas panels each run in their own rail – each panel can slide to the left and right independently – thisway the panorama can be made into an abstraction of itself.
____________________________________________
Commissioned by BAS / Ilja de Rijk, HIS / Deelgemeente Hillegersberg–Schiebroek.
– Council and wedding chamber, Argonautenweg, Hillegersberg, Rotterdam.
Item
PANORAMA- HIS - ROTTERDAM 2012
As seen in
Hillegersberg-Schiebroek
, Rotterdam, Netherlands
Have more questions about this item?