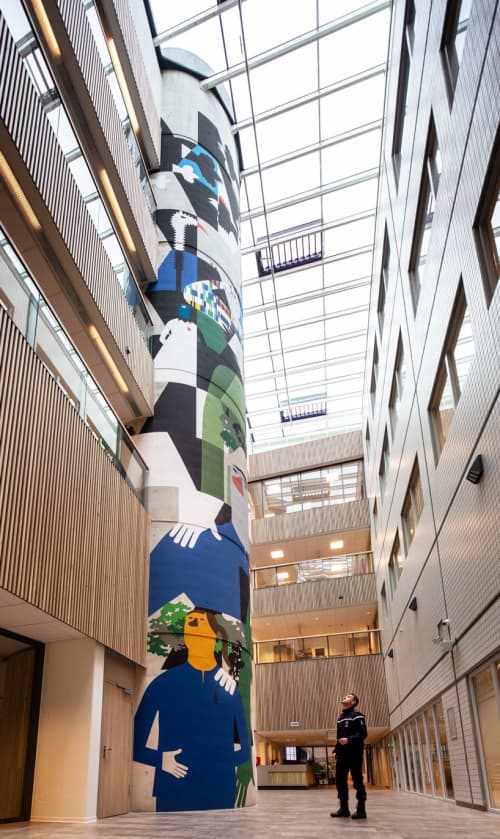 Image credit: Photography: Daria Scagliola, Jannes Linders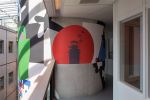 +4

Featured In Central Military Hospital (CMH), Utrecht, Netherlands
Work of art in the Central Military Hospital commissioned by the Dutch Ministry of Defence.
At the central reception desk of the CMH stands a huge concrete column. Grey concrete, four stories high. Visible from the public space, but also from the four floors, which have a variety of function rooms.
In January 2019 this column was transformed into an eye-catching work of art. All operational units are represented in it and the artwork 'breathes' the core values of both Defence and the CMH.
"The artwork conceived as a fabric that consists of groups of elements; silhouettes of animals representing the character traits of the soldier as mythical animals; godwit, porpoise, fox, owl, harrier, hare, sea otter; the equipment of the different units of Defence; the submarine Walrus, the amphibious transport and landing craft Johan de Witt, the CH-47 Chinook, the Ambu-Boxer armoured vehicle.
The column you see in the central hall predominantly shows a pile of figures representing soldiers from the different units. On another scale, rappelling soldiers can be seen as well as soldiers sitting in an observation post. Ribbons have been used as motifs for a garment. The Dutch Lion is shining on a blue scarf.
The three floors at the back of the column are divided into water, earth and air: equipment of Navy, Army, Air Force and Military Police are placed inside. The entire representation is interwoven with an irregular grid of dark and light quadrangles."
Column _ CMH2019, design: Anuli Croon, commissioned by The Dutch Ministry of Defense, Central Militairy Hospitaal_CMH
production: Anuli Croon, Iwaarden Artwork
medium: StoColor paint on concrete column
sizes: (1x) H 1.956 cm x W 650 cm + (3x) H 250 x W 625 cm + (1x) H 300 x W 650 cm
completion: May 2109
chairman: Colonel bd A. Bek
advisor visual art: Esther Vonk | Studio Vonk Rotterdam
interiorarchitect: Karin Kleimwee
architects: EGM architects_Carolien Euser, Eric Wendel
Have more questions about this item?