+2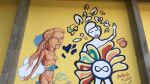 Tipuana Tipu Tree Inspired Mural
Featured In Pontifical Catholic University of Paraná, Curitiba Campus, Prado Velho, Brazil
Collaboration with a Brasilian artist Paulo Aumo in Curitiba visible to 30,000 university students. Wall was free-styled with the idea of femininity and nature.
Artist was inspired by the local tree Tipuana tipu which the main trunk grows in curved ramifications, looking sensual and bounced left to right like a ballerina.
Collaborator Credit: paulo auma, @pauloauma (Instagram)
Item
Tipuana Tipu Tree Inspired Mural
Have more questions about this item?