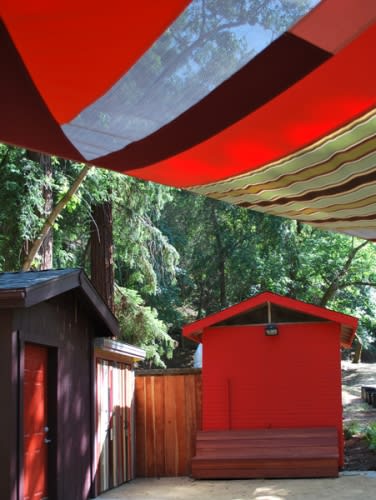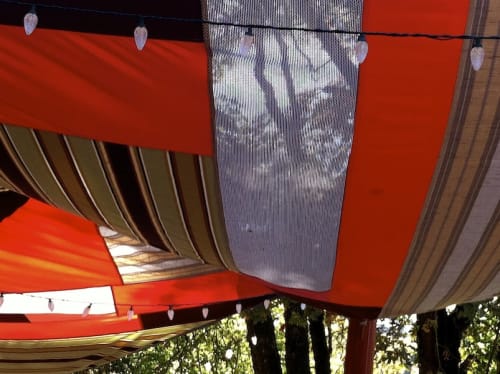 Context & Credits
Item
Counterpoint at Creekside Studio: Montalvo Art Center

+3

Counterpoint at Creekside Studio: Montalvo Art Center
Item Details
Operating at the intersection of painting, sculpture and architecture, Trachtenberg's two-part piece, "Counterpoint" includes the Patchwork Shadecloth and Striped Shed Doors in The Creekside Studio. Two patterned abstract assemblages drawing connections between the natural and cultural setting for artist residents and the wider community.
As an armature for multiple forms of interactivity,we created new usage patterns and facilities for ceramics, summer camp and gathering spaces. The collaboration reveals the space as a container for physical and social connections adjacent to Wildcat Creek.
Creating a functional context for outdoor communal gathering at Montalvo Arts Center The Creekside Studio is a new locale for resident artists, youth camp and the wider community. A terraced space centering on two revitalized shed structures, handcrafted benches, work tables and an outdoor sink nestle in a surround of oak trees and ancient redwoods. The studio's new native plantings contribute to the Montalvo Arboretum. The Creekside Studio emphasizes Montalvo's potential to perform its ripple effect in the landscape for a widening sense of artmaking and community.
Commissioned Collaboration: Visual Artist Amy Trachtenberg and Landscape Architect Jeffrey Miller