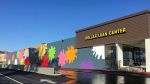 Featured In Montebello Mix, Montebello, CA
This 180 'x 20' Mural honors Montebello as it was once know as the ""City of Flowers"". At the turn of the Century, up to the 1920's, Montebello , California was known as ""The City of Flowers"" stemming from the abundant number of flower farms throughout the city. In addition to introducing the Birds of Paradise flower to the Americas, the flower farms in Montebello were prevalent growers of Roses, Carnations, White Callas, and Chrysanthemums. This mural is a modern representation of the Chrysanthemum.
Have more questions about this item?