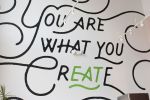 +2

Featured In FUSIAN, Beavercreek, OH
Fusian is a build-your-own sushi restaurant with a few locations scattered around Ohio. Fusian strives to embed their creativity and the idea of "experience" throughout their entire brand, and they provide a dining culture where people can feel great about trying something new and eating well.
I had the opportunity to work with Fusian to create a striking, bold, and beautiful graphic for a vinyl installation in their newest location in Beavercreek, OH.
Have more questions about this item?