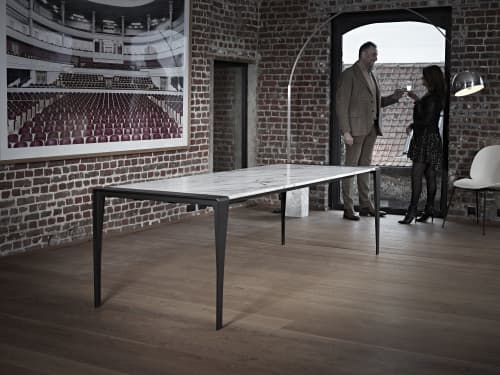 Image credit: Gaetan Francken & Dirk Van Overwalle





+3

Marcello dining table - Calacatta Verde honed marble
Creator not accepting inquiries
Marcello has the perfect shoulders to carry a soulmate in style, a handpicked stone or hardwood top.
Whilst maximising Marcello's strength and stability during its development, our engineering boundaries had to be pushed, bent and beaten.
The persistance and tenacity to develop these 'shoulders', reminded us of a typical sleeveless shirt that is called "Marcelleke". Originating from a former World boxing Champion Marcel Cerdan, who cut off the sleeves of his sporting outfit because of extensive sweating.
Item
Marcello dining table - Calacatta Verde honed marble
As seen in
Private Residence
, Sint-Martens-Latem, Belgium