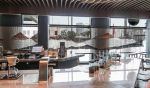 +1

Macrame Partition on Glazing - 10500 x 1600 mm - Macrame Wall Hanging
Featured In Starbucks, Daerah Khusus Ibukota Jakarta, Indonesia
This ultrawide piece located on the glazing of the store, is inspired by the supervolcano and mountains surrounding Danau Toba - where the Reserve Specialty beans are from. The main colors of this piece are hues of orange and blues to represent the natural sceneries in Danau Toba.
Item
Macrame Partition on Glazing - 10500 x 1600 mm
Have more questions about this item?