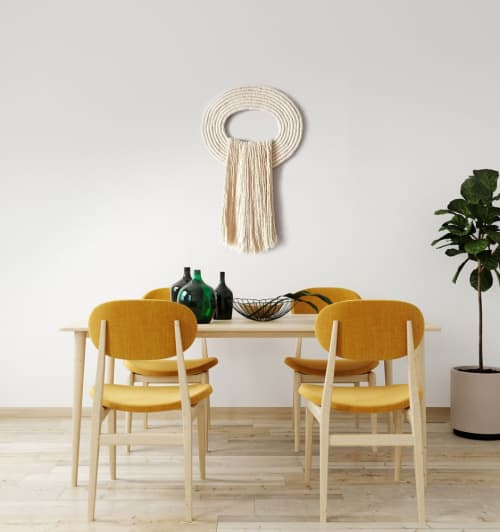 +4

The Crest - Wall Hangings
Creator not accepting inquiries
Dimensions
Weight

30H x 20W x 1D in
76.2H x 50.8W x 2.54D cm

0.91 kg
2 lb
I believe Waterfall represents unleashed creativity in a constant fluid shape that is ever changing and renewing.
This modern and minimalist statement piece- THE CREST, represents openness, flexibility and power. I have tried to reflect the beginning of the waterfall and represent the surrounding rocks with elliptical fiber arch. This fiber art has taken its inspiration from our visit to Rainbow Falls at Mammoth Lakes, California.
Water being one of the crucial four elements for life on our planet, this artwork represent the idea of continuous creation and renewal and hence named "The Crest"- the beginning".
● D I M E N S I O N S
Large
- Wall hanging width: 20 inches
- Wall hanging height: 30 inches from top of ellipse to end of fringe.
Interested in a unique design or custom color or size? Let's talk.