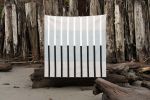 +2

Rialto Quilt - Linens & Bedding
Featured In Captain Whidbey, Coupeville, WA
Other People Want This. 1 People Have This In Their Carts Right Now.
Custom Options Available.
Ask The Creator
For Customization.
Part of the PNW Collection, which celebrates the influence of water across the Pacific Northwest, the Rialto Quilt is inspired by stacks of tree-sized driftwood logs that get pushed up onto the beaches along the Olympic Peninsula's coastline. The balance and contrast of black and white with tonal grays and blues gives this quilt a bold aesthetic that's both modern and timeless.
SIZES
Crib: 40" x 40", perfect for a little one or to hang on the wall
Throw: 60" x 60", great for snuggling on the couch
Queen: 90" x 90", fits a full or queen size bed
King: 100" x 100", fits a king size bed
MATERIALS
Top: Black, Ivory, Yarn dyed Dusty Blue and Steel linen cotton
Binding: Homespun Pepper linen cotton
Back: Unbleached cotton
Batting: Thick US-grown and manufactured 100% cotton
PROCESS
Machine pieced, quilted and bound
Handmade in the USA by our talented quilters in their home studios
Each quilt is made to order just for you. Please allow 3 - 4 weeks for production.
CARE
Machine wash delicate in cold water with a gentle detergent. Tumble dry low or hang to dry.
Fabric will crinkle slightly after the first wash and will soften with use + love.
HANGING SLEEVE OPTION
Add a hanging sleeve to turn your quilt into a piece of wall art. The sleeve is made with the same fabric as the quilt back and lies flat when not hanging, so you can still use it as a quilt.
BEHIND THE DESIGN
I've seen my fair share of West Coast beaches and coastline during my travels, but it was the beaches along the Olympic Peninsula that really captivated me. There's a drama and moodiness to them that conveys the power of the Pacific Ocean and encapsulates the entire ecosystem of the coastal Northwest. From the round beach rocks that have been tumbled and worn smooth by the waves to the sea stacks that have slowly been eroded over centuries, you can't help but see how the earth ages in this place.
My favorite part of these beaches though, is the driftwood. It's no tree limb or small bit of branch you can hold in your hand - it's the whole dang tree, sometimes up to 10 feet around and 100 feet tall . Trees high up in the forest topple during winter storms and are washed down the rivers to the sea. During high tide, these trees are pushed up onto the beach and stack like pick up sticks. There is so much beauty in each individual piece of driftwood, but all of them together as a whole, creates a visual spectacle that can only be found in the Pacific Northwest.
Shipping: 2-5 days
Free Shipping in the US, ask the creator about international shipping.
Estimated Arrival: December 11, 2021
Have more questions about this item?