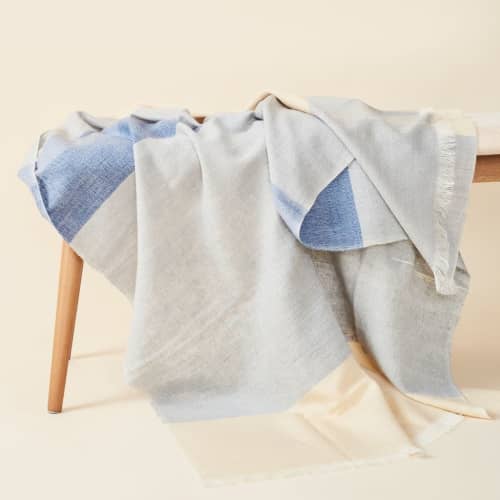 +6

Ceru Handloom Throw - Linens & Bedding
Ceru Throw is a modern color block handloom textile with minimal textures. A custom design by Studio Variously, this piece has been ethically & responsibly made by artisans in Nepal using natural yarns and Eco Swiss Dyes.
Requiring attention to detail and finishing, CERU throw /blanket luxuriously combines heritage value and high-quality craftsmanship. As this luxurious textile is completely handmade from start to finish, each piece is unique. This timeless throw/blanket will enhance interior spaces and also support artisan communities ethically.
This textile's design is made up of color block panels in neutral shades of cream, beige, and blue. Neat fringes give this throw/blanket a clean classic and modern appeal, also making this throw / blanket reversible to arrange and for multiple uses in interior space. Our textiles are incredibly soft to touch and wear well over time.
​
Material: 100 % premium merino ethically sourced from Australia.
Size: 100 X 200 cm
Color: Shades of cream, beige, grey-blue and cerulean blue.
Artisan Base: Ethically handwoven and hand-dyed by artisans in Nepal.
Shipping: UPS 3-5 days
$15 Shipping in the US, ask the creator about international shipping.
Estimated Arrival: November 2, 2021
Have more questions about this item?