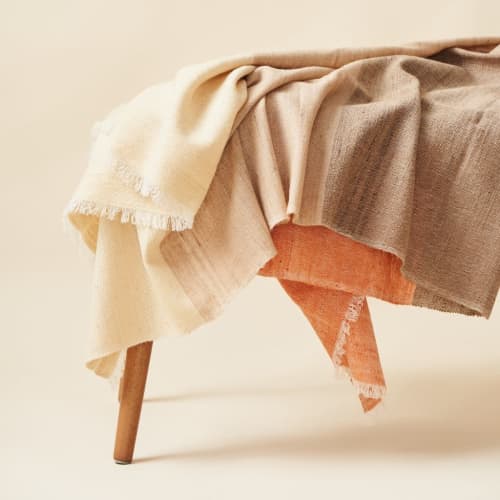 +6

Chestnut Handloom Throw - Linens & Bedding
Requiring attention to detail and finishing, CHESTNUT throw /blanket luxuriously combines heritage value and high quality craftsmanship. As this luxurious textile is completely handmade from start to finish, each piece is unique. This timeless throw / blanket will enhance interior spaces and also support artisan communities ethically.
This textile's design is made up of color block panels in neutral shades of cream , brown and orange. Neat fringes give this throw/blanket a clean classic and modern appeal, also making this throw / blanket reversible to arrange and for multiple use in interior space. Our textiles are incredibly soft to touch and wear well over time.
​
Size: 79" x 39" (200 cm x 100 cm)
Material: 100 % premium merino yarn from Australia.
Colors: Soft shades of neutral pallete in cream, brown and orange.
Artisans Origin: Ethically handwoven by master weavers in Nepal.
Shipping: UPS 3-5 days
$15 Shipping in the US, ask the creator about international shipping.
Estimated Arrival: November 2, 2021
Have more questions about this item?