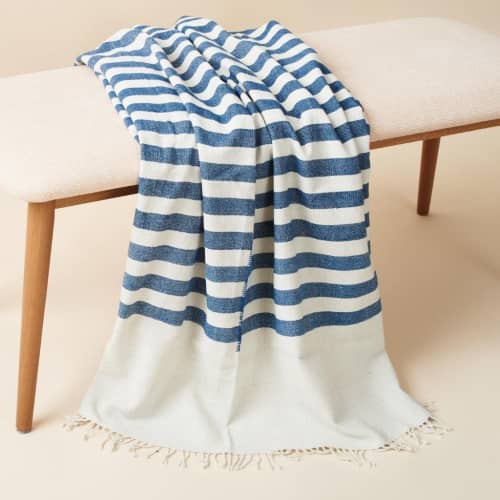 +4

Aari Throw - Linens & Bedding
Aari Throw luxuriously combines heritage value and high quality craftsmanship and can be used as a throw or blanket in your living space and adds up as a bedspread in your personal space. Classic in design, this textile will complement interior spaces and also support artisan
communities ethically.
This textile's design is made up of classic stripes pattern that create the artisanal weave stand out.
Hand-spun organic cotton has been used on ancient looms in rural artisan village community in India. Each piece is hand embroidered in the centre to join the panels manually by artisans. Fringes are neatly hand rolled as well. The organic cotton used in this throw has been cultivated by using rain water harvestation process making it truly sustainable in nature.
​
Material : 100% Rain Fed Organic Cotton from India
Size : 100 X 200 cm
Color : Natural Indigo and white ( undyed organic cotton )
Artisan Base : Ethically handmade by artisans in India.
Shipping: UPS 3-5 days
$15 Shipping in the US, ask the creator about international shipping.
Estimated Arrival: October 25, 2021
Have more questions about this item?