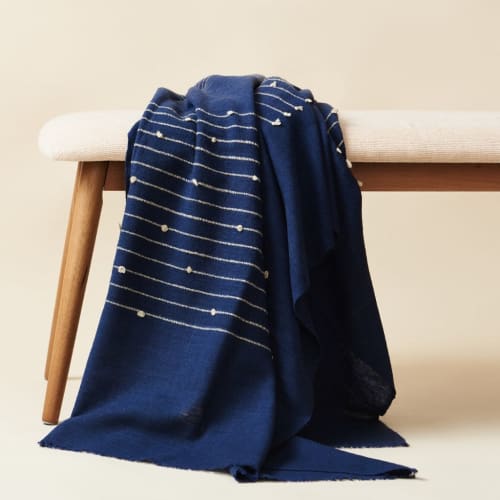 +5

Rosewood Indigo Throw - Linens & Bedding
Rosewood Indigo Throw is a classic stripes pattern which is made by carefully hand-knotting natural yarns. A custom design by Studio Variously, this textile is ethically and responsibly made by artisans in Nepal by using Eco Swiss Dyes.
Requiring attention to detail and finishing, ROSEWOOD INDIGO Throw luxuriously combines heritage value and high-quality craftsmanship and can be used as a throw or blanket in your living space and adds up as a bedspread in your personal space. ROSEWOOD INDIGO is made up of subtle textured stripes that create a luxurious neutral gradient effect. One of our classic bestsellers, this throw is suitable for year-round use.
Material: 30% cotton 70% hand-spun merino
Size: 100 CM X 200 CM
Color: Soft Indigo Color Base with Canvas color hand-knotted stripes.
Artisan Base: Responsibly handwoven by artisans in Nepal.
Shipping: UPS 3-5 days
$15 Shipping in the US, ask the creator about international shipping.
Estimated Arrival: November 2, 2021
Have more questions about this item?