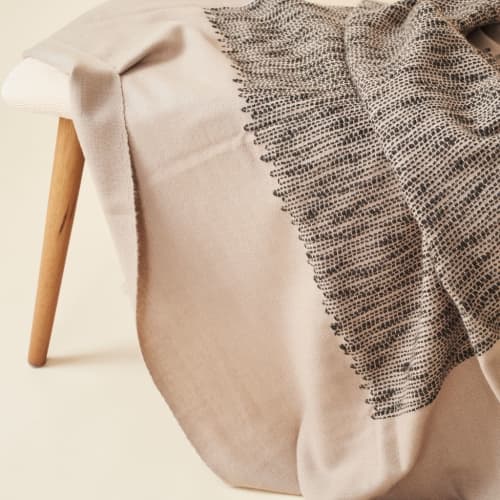 +5

Flo Brwn Throw - Linens & Bedding
FLO Brwn is expertly hand embroidered on a handloom textile which is first created on a loom. A custom design by Studio Variously, these modern minimal textures are soothing & classic for any living spaces. Ethically made by artisans in Nepal using natural yarns and Eco Swiss Dyes.
FLO throw/blanket luxuriously combines heritage value & high-quality craftsmanship. A perfect gift or personal purchase, FLO is a timeless classic throw/blanket that will complement your personal or living spaces and also support artisan communities ethically.
​
This plush textile's design is a modern take on combining shape and fine detailing of hand embroidery handcrafted meticulously on a handloom textile. Large square in shape, each piece is 100% handmade making it a unique sustainable throw which is both classic and minimal modern in its appeal. Hand embroidered pattern is textured on one side and subtle on the reverse side as well, making this throw or blanket reversible to arrange and use.
Size: 53" x 53 " ( 135 cm by 135 cm ) ( large square in size )
Material: 100% soft merino from Australia with hand embroidery.
Colors: Soft brown base with black embroidery.
Artisan base: Ethically & responsibly handwoven by artisans in Nepal.
Shipping: UPS 3-5 days
$15 Shipping in the US, ask the creator about international shipping.
Estimated Arrival: November 2, 2021
Have more questions about this item?