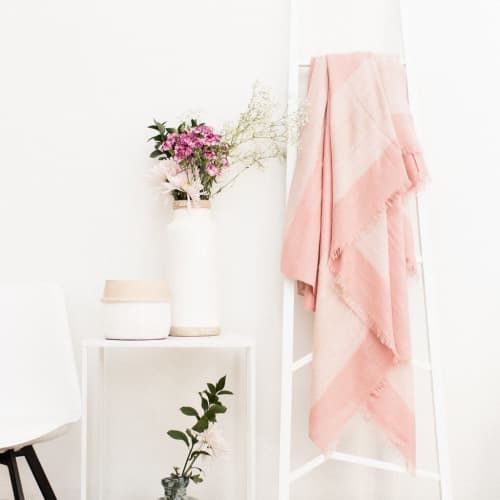 +6

Rosa Throw / Bedspread - Linens & Bedding
Large in size, Rosa is a luxurious plush textile that is an artistic statement to herringbone weave. Compliment your personal by using this as a bed spread or add modern artisan value to your living space by using it as a throw or a blanket . The design of Rosa is made up of subtle color variations that creates a soft reflection in weave pattern. Herringbone weave and neat fringes gives a soothing appeal to the plush merino yarn used in this handloom throw.
Our textiles are incredibly soft to touch and wear well over time. Requiring attention to detail andfinishing, this piece luxuriously combines heritage value and high quality craftsmanship.
A perfect purchase for personal or living spaces this throw also makes as a special gift , by supporting artisans equally.
Material: 100% pure merino from Australia
Size: 150 cm x 250 ( large )
Color: Soft Pastel Hues
Artisan base: Ethically and responsibly handwoven by artisans in Nepal.
Shipping: UPS 3-5 days
$20 Shipping in the US, ask the creator about international shipping.
Estimated Arrival: November 2, 2021
Have more questions about this item?