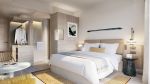 +2

Mended Tweed Blanket, Silver Grey with band - Linens & Bedding
Featured In Zentis Osaka, Osaka, Japan
Our signature Mended Tweed fabric is uniquely crafted from 'wild', traditional spun, Pure Merino Donegal yarn, creating a stunning and unusual weave featuring beautiful flecks of colour throughout. Cosy and luxurious, the Mended Tweed blanket is finished with a soft fringe and is available in a colour palette to compliment every modern interior.
Approximately 150cm x 200cm
100% Merino Wool
Silver Grey/Natural White
Purled fringe
Dry Clean Only
Shipping: FedEx 7-10 days
Estimated Arrival: December 17, 2021
Have more questions about this item?