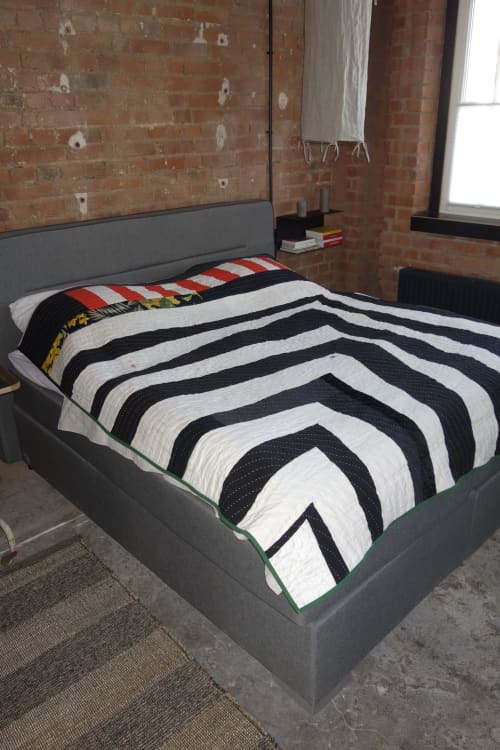 Image credit: Daniela Witt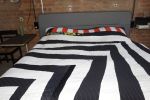 +1

Black White Quilt - Linens & Bedding
Featured In Farbenfabrik, Leipzig, Germany
Black White Quilt | Linen, cotton, viscose, wool | 2,15 x 1,81 m | 2020
Dieser wunderschöne Quilt ist ein absolutes Unikat, welches von der Textilkünstlerin Daniela Witt in ihrem Atelier in Leipzig gefertigt wurde.
Die Quiltoberseite besteht aus verschiedenen recycelten Stoffe.
Die Einfassung und die Aufhängung wurde mit der Hand genäht, das Zusammennähen der Streifen und das Quilten in der Naht ist mit der Nähmaschine erfolgt.
Die Füllung besteht aus Baumwollmolton. Die Rückseite und die Einfassung bestehen aus Baumwolle. Die Rückseite ist ebenfalls aus verschiedenen Stoffresten zusammengesetzt.
Der Quilt verfügt an der Rückseite über einen Schlauch um ihn aufhängen zu können aber er eignet sich auch als Überwurf für das Bett.
Pflegehinweis:
- Schonwaschgang bei 30 Grad
- Bügeln mit zwei Punkten
--------------------------------------------------------------
Die Bekleidungstechnikerin und Textilkünstlerin Daniela Witt hat sich auf die Technik des Patchworks spezialisiert, das heißt Stoffe werden zerschnitten und neu zusammengefügt. Der Stoff wird dabei aus seinem ursprünglichen Zusammenhang gerissen und in einen neuen Kontext gesetzt, dadurch entstehen ungewöhnliche Effekte bzw. fehlerhafte Dinge wie Löcher/ geflickte Stellen/ Verfärbungen rücken in den Fokus und bekommen eine neue gestalterische Komponente. Durch das Spiel mit Farben und Formen lassen sich unzählige Variationen erzeugen, die spannende Bilder ergeben. Als Textilien für die Oberseite werden hauptsächlich Altkleider verwendet, vor allem abgetragene Jeanshosen haben es ihr angetan, da die Gebrauchsspuren der ausrangierten Klamotten Geschichten vom Vorleben erzählen. Die Quilts entstehen in ihrem Atelier in Leipzig.
Shipping: 8-10 days
Price $40
Shipping in the US, ask the creator about international shipping.
Estimated Arrival: February 7, 2022
| Dimensions | Weight |
| --- | --- |
| 215H x 181W x 0.5D cm | |
Returns accepted within 14 days
See details
Have more questions about this item?