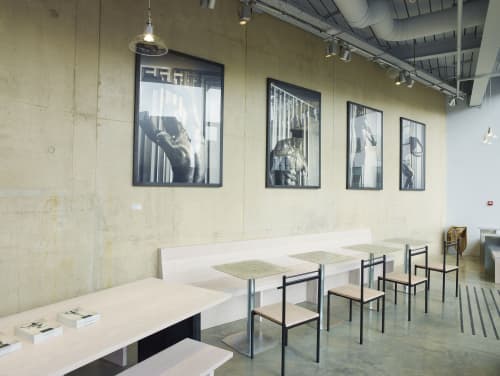 Image credit: Max Oppenheim


+8

BLOK Shoreditch - Lighting Design
Featured In BLOK Shoreditch, London, United Kingdom
Following the success of their first gym in a disused Victorian tram depot in Clapton, East London, another venture was quick off the BLOK, this time at the foot of the new Norman Foster development Principal Place, in the heart of Shoreditch. Similarly to the interior designers daytrip.studio proposals for the spaces and material palette, the challenging architecture in a narrow, irregular unit with various ceiling heights and conditions inspired exciting, thoughtful and bespoke lighting solutions throughout.
On arrival, the café doubles as a gallery space. Its unusual proportions - being long, narrow and 5m high - allow the walls to command an imposing display area where narrow beam spotlights accent the artworks. Above the tables, bespoke transparent glass shades from Factorylux were put together with Xicato Artist modules specifically for BLOK. Moving into the foyer, the design retains the use of colour light but refines the concept with a more unconventional approach: an interactive coloured shadow installation, rather than washes of colours as in Clapton. This too is a bespoke luminaire developed together with Radiant Lighting for the project.
Reaching the lobby, we are struck by the sculptural staircase and block forms, highlighted subtly with washes of light accenting the textures and material combinations. We also see a first glimpse of the cold cathode installation with a unique gradient of colour mounted horizontally on the wall. Different colour temperatures are also seen in the studios designed in alignment to their activities: warmer whites for lower intensity classes and cooler for higher. In the Barre and Yoga Studios, semi-recessed lines of light deliver most of the ambient lighting with additional lighting at the top and bottom of the mirrors framing the studios' shorter elevations. A different approach was taken in the Boxing Studio, referencing American boxing rings with increased light and shadow contrast. We again approached Factorylux for a unique solution that truly reflects the honest and unique aesthetics throughout: a pendant made of an exposed heatsink coupled with high powered Xicato Artist LED module.
Behind the building's curtain glazing, the interior design introduced a secondary layer of translucent fibreglass which screens off the studios for privacy but still provides natural light. By day this appears calm, but in the evenings it takes on a new life as the lights and shadows created by the classes emanate from within, activating a performative scene in this relatively quiet backstreet.
The changing rooms have exposed services that reveal the building's structure. Here, lines of light were discretely integrated, creating subtle washes of light against the exposed concrete walls to enhance the luxurious environment. The mirror was designed to integrate small ceramic LED bulbs from Tala. With the lamp holder recessed and the 'neck' of the pear bulb concealed, small spheres appear to float off the surface, resulting in flattering diffuse lighting effect for post work out gratitude.
Have more questions about this item?