Image credit: Erieta Attali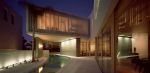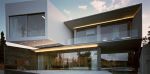 +6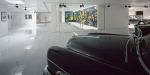 A solid wall that runs along the plot and defines the movement as well as the artwork walls. This is the main and strongest element of this composition. Lighting was aimed at highlighting this important wall with a strong wallwashing technique, while leaving the glazed side to retain its role of connecting the inside to the outside. Completed at a time when LED linear sources were not perfected the lighting scheme uses conventional lamps to achieve a strong linearity in line with the morphological language of the architecture.
Architect: Divercity Architects
Client: Private
Space Consultant: Sofia Vantaraki
M&E: LDK Consultants
Contractor: Divercity Architects
Landscape: Elandscape
Have more questions about this item?