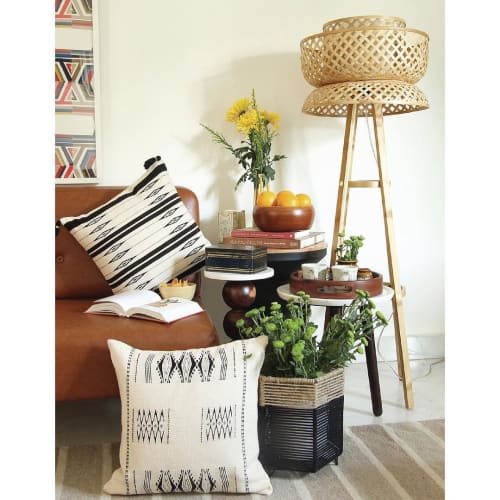 +8

Custom Options Available.
Ask The Creator
For Customization.
Shipping: 10-15 days
Free shipping in the US, ask the creator about international shipping.
Estimated Arrival: June 30, 2021
Functionally superlative and aesthetically pleasing in garden-fresh hues, this standing floor lamp structure would make a suitable accent piece in the living area, bedroom, home study, office, or any classic settings.
Structured with a robust bamboo-based tripod base, the translucent top shade exploits the properties of bamboo, allowing light to be softly diffused in the surrounding environment.
In order to minimize the environmental footprint, the entire lamp is made from a single 5' height hollow bamboo pole of 3 4" diameter. The shade structure has a minimalistic design for optimal energy efficiency, enhancing the exquisiteness of the whole structure and lamp itself, avoiding glare and the Tripod legs create an airy base bringing a nice contemporary accent to any interior. This floor Lamp is delicate yet sturdy in design with a dynamic sense of balance culminating in an elegant, clean form.
The tripod structure being quite slim and light-weighted is easy to pack in a box and carry around. DIY assembly of the whole unit is possible in few steps in a matter of minutes.
Product Specifications
Dia: 45cm
Height: 138cm
Wire Length: 2.5 meter
Bulb: 40 Watt Incandescent Bulb
Materials
Bamboo, Linen Fabric
Country Of Origin
Made in India
Have more questions about this item?