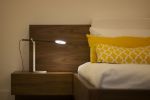 +3

Gravy is a unique desk lamp that brings style and warmth to your space. Edge lit technology in a circular LED head provides a soft, evenly distributed glow of light. The solid wood bar and base are offered in three different natural woods: light maple, white oak and rich walnut. A slim but sturdy aluminum stand supports the wood bar and LED head. Controlling the light is easy: simply tap the center of the underside of the LED head to turn on or off, and touch and hold to adjust the light's brightness. Gravy is highly adjustable, providing the user with perfect light placement. This elegant combination of wood, aluminum and diffused light works beautifully to illuminate any interior.
Shipping: FedEx 5-8 days
Free Shipping in the US, ask the creator about international shipping.
Estimated Arrival: December 23, 2021
Have more questions about this item?