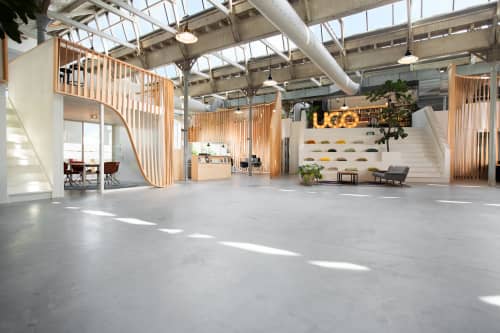 Image credit: Raf Celis, Huis Twaalf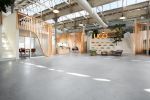 +8

MOMENTUM flowing screens - Interior Design
Featured In Utrecht Community (UCo), Utrecht, Netherlands
Utrecht Community (UCo) is a sustainable community with 1800m2 of work, workshop and consultation space in a sustainably renovated monumental train workshop. UCo offers space to 150 entrepreneurs with various disciplines. Both separately and together they deploy their expertise for a more sustainable world. To respect the monumental heritage in the design of the interior I searched for a form concept that would not compete with the historic architecture, yet would be powerful enough to complement the building. The 5-meter high slatted wooden walls flow around the various conference rooms. The walls curve open to allow a large staircase, that doubles as stands, to push out through the wall. The wood brings warmth into the steel, stone and concrete industrial space. The slatted wooden walls flow around the transparent building, curving up when an entrance is required and curving down where privacy is preferred.
A wall of angled slats is always interesting because you can look through it from one angle but not from the other. As you walk past such a wall it seems to move; it seems to open or close, even if the slats are static. To give this design an extra 'twist' each slat literary twists 90 degrees from top to bottom making each slat a double curved surface. Now the wall is closed below and open above or vice versa, making that experience of a dynamic, moving wall even stronger.
Have more questions about this item?