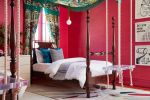 +8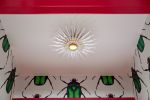 Dual design team, Eva Muller Bradley and Alicia Cheung Lichtenstein of studioHEIMAT are honored to present Daydream Believin at the 2019 San Francisco Decorator Showcase from April 27, 2019 - May 27, 2019. Fictional thirteen-year-old twin girls, Lucy and Arianna inspired the bedroom. Having recently moved from Singapore, the twins view their new room as both a sanctuary and launchpad into the future.
Singapore's diverse flora and fauna sparked a love of botany for Lucy, and a passion for entomology in Arianna. As you walk through the bedroom's vestibule, the shimmering iridescent wallpaper of scarab beetles catches your eye. The room is wrapped in a pink manilla hemp wallpaper and holds two colonial carved wood canopy beds, vestiges from their Singapore home. A vibrant plant motif fabric called "Heliconia Dreaming" from Jim Thompson adorns the canopies. To illuminate the space, the designers selected a pair of bubble fixtures suspended by Windy Chien knot sculptures. At the foot of each bed, hanging dichroic acrylic swings provide seating. On the ceiling, Fornasetti's cloud wallpaper adds to the dream theme.
Have more questions about this item?