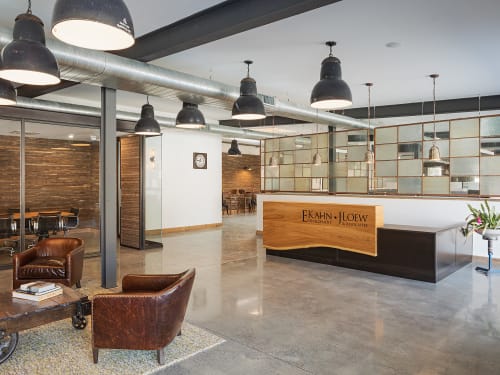 Image credit: Sam Oberter Photography


+7

SRJ was hired by Eli Kahn Development and J.Loew and Associates to design combined offices for their company in a former 10,000sf warehouse space. They desired an open office that promoted more social interaction between staff, while still providing separation for private offices. The solution was to create a series of social public spaces that weave through the project and are defined by the more private offices and conference rooms.
The existing structure was a basic shell of a building with concrete floors and CMU walls. There was little inherent quality to the existing space. The design radically transformed the space by inserting a variety of reclaimed materials and re-purposed objects to give it newfound character. The existing concrete floors were ground, stained and polished to reveal a beautiful patina. The reception desk is a combination of reclaimed live-edge wood, with the companies' logos branded into the face, and a corresponding blackened steel surround that ties into the glass framing for the offices and conference rooms. Industrial window frames were re-purposed from an old factory and re-glazed with vintage wire glass in a random pattern to create a translucent screen between public areas and staff workstations. Reclaimed lathe was used as wall cladding in the conference rooms and offices.
The core of the project is the 'interactive space' which acts as a hub for all circulation and activity. This space is great to set up a laptop and work remote at one of the cafe tables or have an informal meeting on the comfortable lounge seating. By punching two large skylights in the center of the building we provided natural light to many spaces at once.
There are 3 conference rooms of varying sizes and uses from a glass enclosed 'public' conference room off the reception, to the more private 'war room' off the offices. The 'board room' features a 15' long table, reclaimed brick walls and over-sized factory style pendants. All tables are made from reclaimed beams from a former factory in Pennsylvania. The break room features a regulation length shuffleboard table and access to an outdoor patio and additional seating.
Lighting was an important feature in the space anchored by reclaimed factory lights from Czechoslovakia that occupy all the pubic spaces.
Have more questions about this item?