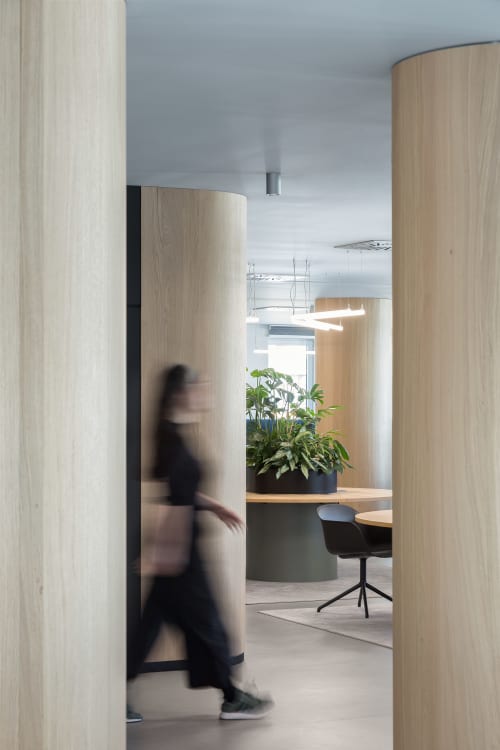 Image credit: Relja Ivanić

+22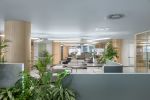 Roche Office / Serbia - Interior Design
Creator not accepting inquiries
AREA900sqm
YEAR2018
ROCHE SERBIA office is located within a 900sqm office space in the GTC Green Heart, business park in Belgrade.
The future office is iregulary shaped, with large volumes of space with storage, sever rooms and toilets placed within the fllor plan. This determined the organisation of the floor plan to the large extent.
The Clients decision to moove the business from a 2000sqm to a 900sqm office space, with the same number of office users, while considering the exhisting habits of the users, came as a real chalenge.
This circumstance has set the course of the Design of the future office. Due to the fact that the users are used to a certain level of privacy and individuality in their previous space, the chalenge was in replicating those conditions within a more than half smaller space.
The content of the new space appears as a regualr scheme of a contemporary office, but with carefully positioned elements, so that a open office with a higher quality of user privacy and comfort, would be created. Space it divided into smaller clusters of work desks, divided with accompanying content as meeting rooms, video conference booths, hot desks, greenery...
The conceptual idea of the space was an Architectural Archipelago, with the work desk clusters, meeting rooms, greenery, breakout space, being its islands.
By omiting the wall corner element within the space, the rigidity of the floor plan was broken and the space is ''soften up'', which aspires circulation through space.
The office comunicates a dose of moderation and calmness, reflecting the targeted group of users.
A subtle and refined material palette is carefully selected with the intent to represent the delicateness of the business and values of a leading healthcare company such as ROCHE.
Natural wooden wall finish details throughout the interior creates a warm an pleasant work environment, while its texture in contact with glass partitions and other architectural materials, creates a subtle play od natural and artificial, light and dark…a play of contrasts.
Creating architecture is a play of opposites.
Final result:
Konačan rezultat:
-Impression of working within a smaller office space instead od a large open space,
-Higher level of user privacy by creating smaller work clusters
-The space flows and aspires circulation,
-Users work in a bright and warm environment, surounded by masses of vegetation
Pleasant user experience was an imperative of the Design