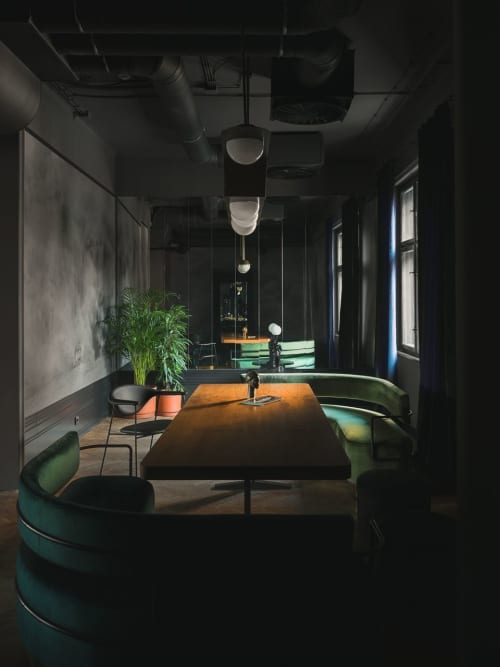 Image credit: Relja Ivanić


+16

Leticia Gin Bar - Interior Design
Creator not accepting inquiries
AREA180m2
YEAR2018
Leticia Gin Bar is the first Gin Bar in Belgrade, and it is situated at the first floor of an old Belgrade Villa dating from 1938. located within Krunska Street, which is probably one of the most Beautifull streets of Belgrade.
She is the other half of an interesting concept which houses two completely different elements within this authentic space. Restaurant Berliner on the ground floor (once a famous beer house Berliner in Savamala district) and Leticia Gin Bar on the upper floor. The two day and night elements as chiaroscuro, or light vs. dark.
Leticia is the Night element of the composition.
First floor of the old Belgrade Style Villa, with high ceilings and double timber windows, timber staircases whose squeaky sound takes you back through time, was used as a perfect setting for creating this special story. Function of the space is reflecting the layout of the existing house.
The horseshoe shaped Bar, as the star of the space, is placed where the original living room of the house was, overlooking the lavish Krunska street, while the lounge booth area and the ''poker'' room which are planed for somewhat intimate conversations over a glass of quality gin are placed in the original night zone of the house overlooking the beutifull backyard of the Villa. The transition from one zone to another is seamless.
High ceilings, narrow windows, fireplace, old timber flooring which were left as found, welcomed the dark gray tones of the photo wallpapers with silouethes of running horses reflected on the large wall mirrors. Green and dark blue custom made velvet sofas, brass detailed tables, thick velvet curtains, timber details complementary with the colour of numerous gin bottles are creating an athmosphere of a smoky poker bar from the silent movies.
Leticia Gin Bar is the interior on a night out.
Studio AUTORI specialy designed for this project allmost all of the elements of the space such as:
-Sofas
-The L shaped lounge booth
-Tables
-Bar