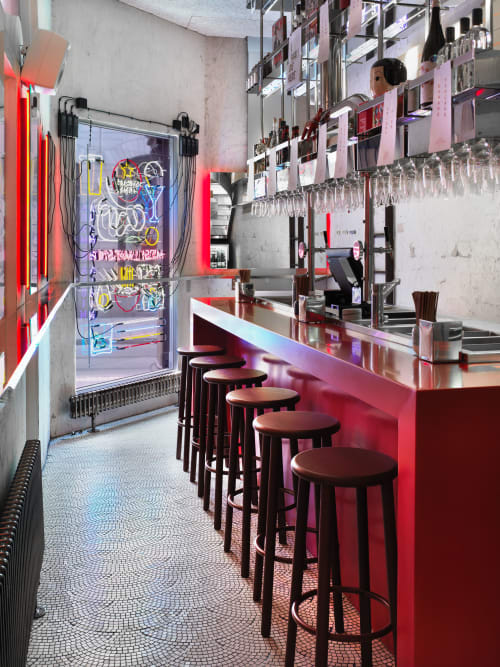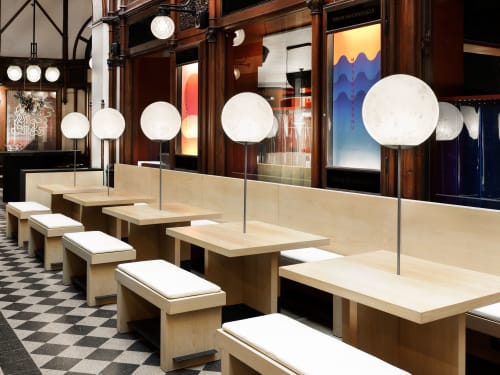 Image credit: Erik Undehn


+2

Item Details
Misshumasshu is Japanese and translates to mish mash. The Swedish chef duo Adam Dahlberg and Albin Wessman came to us with a vision for their new restaurant concept:
"Open for all. Days and nights. A diner liquor bar mash up. One part Stockholm, one part Tokyo. Flavoured by Adam & Albin. Lively, diverse, fun. Noodles and whiskey, sliders and sake. Local, global, seasonal, whatever. Mix as you wish. Come as you are."
The place, Birger Jarlspassagen, is a small arcade built in the 1890s. Originally the space was part of one of the first movie theaters in Stockholm, it has since become a historic landmark. One of the key things to solve was to bring life back to this very central but yet so sleepy corner of Stockholm city.
The building itself brings a lot of identity that we embraced. We're playing with the original lamps of the arcade, doing a table top interpretation with Japanese rice paper. To the historic environment we're adding international feel with focus on associations that Japan and Sweden might have in common, the red colors used in architecture and interior in both countries for example.
The very small restaurant hosts 70 guests in a compressed setting that raises the atmosphere. Benches, tables and chairs are all out of warm colored beech wood. Just like in Japan you place your belongings in a basket under your seat. The restaurant is mainly lit by our own "ABF 1" pendant from &tradition.
Closest to the street is the bar situated. It's tinted by loads of neon, enhanced by pink foil on the windows. The bar is definitely the center piece since it fills almost the entire, double story, room.
The design concept is made to be strong enough to endure both busy traffic and late night fun, as well as additions and changes over time, without fading.
Misshumasshu opened spring 2019.
https://www.misshumasshu.se