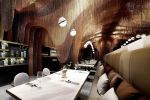 +13

Item Details
Spacemen drew inspiration from nature and through a series of undulating planes in varies shades of gold, reinterpreted the topography of those iconic green hills into the key design language of Icha.
Taking up a refurbished mid-19th century colonial heritage building in the newly developed outdoor shopping district, Fengsheng Li, the project will be the new flagship restaurant of the brand as well as becoming a signature landmark in the centre of the government owned property.
Overlooking from the promenade's water feature, a brass cage integrated into the entry foyer façade takes centre stage. It houses a new outdoor tea bar behind the angled brass slats that shield it from the midday sun but come night fall, the the reflective nature of the brass disappears as light from within the foyer pours outwards. The cage glistens exuding an inviting warmth that draws the casual passer-by to glimpse inwards and into the restaurant. Brass arches and windows frames were carefully inserted around the façades of the building to create more indoor spaces from the exterior corridors.
Contrasting with the exterior which has mostly been left intact due to historic preservation guidelines, the interior has been completely transformed. Entering the main dining