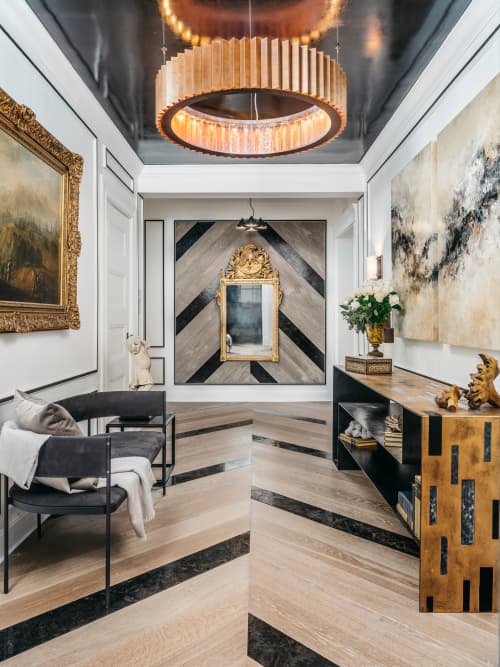 Image credit: Christopher Stark





Featured In SF Decorator Showcase 2019, San Francisco, CA
Crisp, clean lines with a modern twist transform what once was a casual pass through into a defined show-stopping moment. Emerging designer, Scott McMahan, of the newly formed Scott Robert Design in San Francisco, is the youngest interior designer ever granted a solo space in the highly coveted San Francisco Decorator Showcase. Scott's room, ​Classically Modern ​ , is a reflection on blending classical architecture with a contemporary lifestyle, which should come as no surprise from the former Oakland Ballet dancer.
Previously, the corridor was a simple rectangular box that now is painted like a bright canvas in C2 Paint's C2 LUXE Sheer in a flat finish with matching trim featuring inlaid steel strips throughout. This nuanced design detail might be missed when compared to the dramatic oak and steel chevron floor pattern anchoring the room, but Scott continues this motif with matching cladding on the southwest wall while layering these elements with an 18th Century French Louis XVI Giltwood Neoclassical Mirror from C. Mariani Antiques and Jonathan Browning's Vichy 4 Light Pendant above.
A main focal point in the room is a 7' custom steel console table with laser cut inlaid lacquer and glass panels by Iron Roots. Flanking the console table are a pair of Vellum wall sconces by McEwen Lighting with a Gear Suspension chandelier above, also by McEwen Lighting, with finishes matching the glazing strips within the console's laser cut top. Bringing a contemporary art flair to this moment is a renaissance-inspired diptych by Sonoma artist and childhood friend of Scott's, Aiden Kringen. Just across the room is the Era Settee by Divani Living from Dzine and a PT8 Black cast bronze side table by P. Tendercool from Jiun Ho with an 18th Century Oil on Canvas provided by C. Mariani Antiques. A true convergence of classical design elements with a modern twist, completing the vision of Scott Robert Design.
Have more questions about this item?