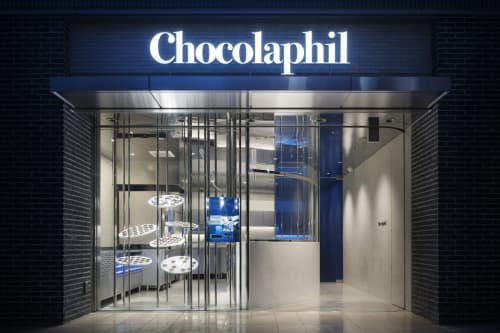 Image credit: Photo:Tomooki Kengaku / Photocredit: BAKE Inc.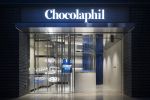 +16
Chocolaphil etomo Jiyugaoka - Interior Design
Featured In Chocolaphil エトモ自由が丘店, Meguro City, Japan
"Forest of Cacao by mirror-finished colonnade"
"Chocolaphil" is a chocolatier produced by BAKE Inc. which is well-known in various brands in the confectionery industry with a new concept as "Gâteau au Chocolat makes it feel more chocolate more than a bar of chocolate."
Gâteau au Chocolat is bringing out the potential of Colombian chocolate from chocolatier "Ca Ca O" in Kamakura, Kanagawa, who makes chocolate from scratch. We created this shop by uniting service counter and kitchen, it feels an aroma of chocolate and freshness of the Gâteau au Chocolat with the senses.
To be able to express Chocolaphil's view of the world, we set a concept as "Forest of Cacao". First, we set the brand color as ultra-marine blue that makes it feel like the ocean. Because cacao, one of the main ingredients, is "from far over the ocean". Space is constructed with the integrated shop covered by a curved window, mirrored finished colonnade as trunks of the cacao tree, and oval plates that the Gâteau au Chocolat are displayed as cacao seeds.
We used stainless mirrored materials that are inspired by aluminum foils that has been popular and used to keep the flavor of chocolate. The material that used to be keeping and saving the flavor is directly expressing dazzle and brilliance that the products have, and also providing spreads and echo of cacao. The ceiling is arranged by the irregularly patterned mirror as the view of the forest. The mirrored pillars and ceilings are also providing the gimmicks that reflection of the moments of fresh-baked Gâteau au Chocolat, the blue-colored interior that set randomly, and the activities of people in the store. (Roito by Ryohei Kanda)
Have more questions about this item?