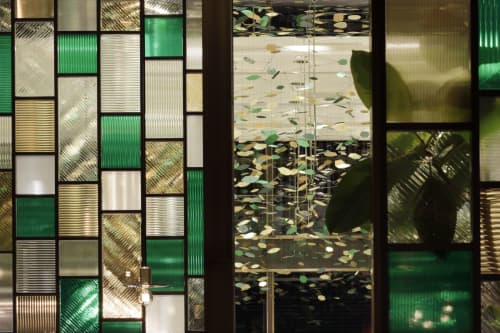 Image credit: Daisuke Shima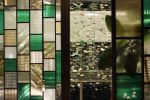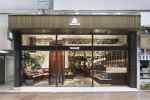 +21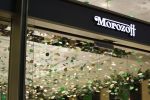 MOROZOFF FLAGSHIP STORE - Interior Design
Featured In Kobe, Japan
When approaching designing the Morozoff Flagship Store, which has a history of over 88 years, we set two themes. First, that it is a store that customers have loved since establishment, and secondly, that the design of new store would excite customers about Morozoff's future even further. The can housing Morozoff's most well-known sweet, "Arcadia," is decorated with a graphic known around the world and its name originates in the ancient Greek concept of utopia. We incorporated the impression this packaging leaves on the viewer into the façade of the store. Using brass and cast iron to represent the gold and black pattern, we also achieved a solidness to the design while also imitating the organic paisley pattern with leaf-shaped art visible through the glass façade. The leaf-shaped object is an aluminum panel laser-cut into the same shape as the iconic Morozoff cookie, "Feuillage." Finished in green and gold, corporate colors of Morozoff, the leaf sparkles in different ways depending on the light, lending a sense of excitement and fantasy.
On the other hand, in café located in the rear of the shop, finishing touches were made in an intentionally classic style. We contrasted the modern sales area in the front with the café area in the back, separated only by a glass panel. The glass partition is composed of three types of differently colored glass and a pendant lights hanging in each area, reflecting the light randomly from the leaf to resemble something like a large chandelier. Looking around the area past the glass partition, we had the idea that we could create a relationship between Morozoff's path up to now and its future. Our aim for this store was to create a design connecting Morozoff's past and future. (Ryohei Kanda / Roito)
Have more questions about this item?