Image credit: Borzu Talaie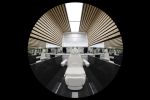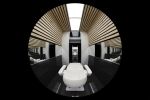 +2

Our human body reveals that beauty or health is symmetrical, balanced, and ordered. The smallest intervention project of Atelier RZLBD to date, the AK Room is a spatial experimentation of these values, converting a typical clinic room of an insignificant footprint into one that transcends its physical boundary and inspires a deeper sense of well-being. Expressing the idea of "care" beyond clinical service, the room is composed of two symmetrical "hands" coming together from above and below, embracing a body in the very center. The materials of the ceiling (wood) and the floor (tile) extend on the two side walls up to the ribbon mirror in the middle, forming a U-shaped bottom and its counterpart top; everything else is in either white or black to be visually unobtrusive. Upon entering the central gate, the room unfolds a small universe, in which everything is perfectly symmetrical, both horizontally and vertically.
Project credits:
Client: AK Care
Budget: Withheld
Architect: RZLBD / Atelier Reza Aliabadi
Project Lead: Reza Aliabadi
Project team: James Chungwon Park
Construction Management: Maxamin Homes
Architectural Photography: Borzu Talaie
Location: Canada, Ontario, Brampton
Basics: Intervention
Lot: N/A
Area (GFA): 60 sqft / 5.4 m2
Design: 2019
Completion: Winter 2020
Have more questions about this item?