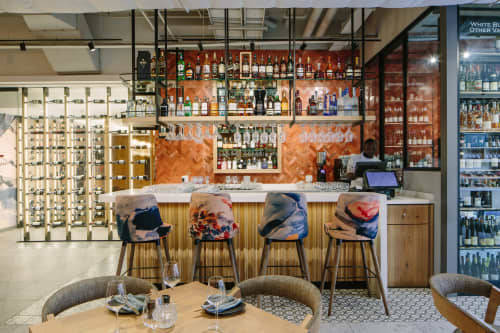 Image credit: Tristan Mclaren at Mclaren Studio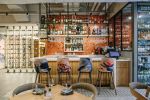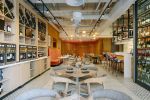 +9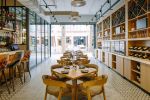 Cuisino Melrose Arch - Interior Design
Featured In Melrose Arch, Johannesburg, South Africa
Designed and implemented by REIS Architecture, Interiors & Furniture, Cuisino is a restaurant and wine shop situated on the High Street of Melrose Arch. ⁠
⁠
The crisp, clean modern interior of the restaurant opens up to the fresh, white-washed spruce framed al-fresco dining area, bringing their unique wine-by-the-glass experience to the bustling High Street.
The bar at Cuisino features an illuminated framed mirror display against a herringbone pattern wall with bespoke subway tiles from Wolkberg Casting Studios.
The interior design team at REIS worked with Fabricbank-za for the creation of unique fabrics for the bar stools with a pattern design by Donna Solovei from the Robin Sprong wallpapers collection.⁠
⁠
Oak fins with steel cradles hold wine bottles form a screen to the private cigar lounge at Cuisino against a background of subway tiles
The well-stocked, temperature controlled speciality wine shop/cellar opens to the dining area and the High Street of Melrose Arch. ⁠
One of Cuisino's unique selling points is their wine-by-the-glass offering. Guests at their restaurant can taste or help themselves to a wide variety of wines from their state of the art wine dispensing machines.⁠
Ben dos Reis indulged himself in the design of some unique pieces of furniture for Cuisino such as the bar counter and suspended display, the oak-fin wine cradles the unique display cabinet for their wine-by-the-glass dispensers and the merchandising shelves with sliding steel ladder for the wine shop.⁠
⁠
⁠
Bar and wine shop display and suspended shelves fabricated by Mint Interiors. Bar stools by @auvergne_designs, solid oak cladding on bar-front by @mikemadethis.mmt, wrap-around stone counter-top by @eurogranite_sa, floor tiles from @limegreen_sourcing_solutions. ⁠Subway tiles from @wolkberg_casting_studios. Central dining table by @davidkrynauwontwerp, bar-stools from @auvergne_designs in @donnasolovei design on fabric by @fabricbankza and cork from @wiid_design.⁠
⁠
Cigar lounge wine bottle display and thermory pine fin wall fabricated by @ergoform. Solid oak and Kiaat table-tops from @umdabu and dining chairs by @karongwefurniture⁠. The bespoke designed by REIS with 'Lovely Coral' fabric from @warwickfabricsuk⁠.
Item
Cuisino Melrose Arch
Have more questions about this item?