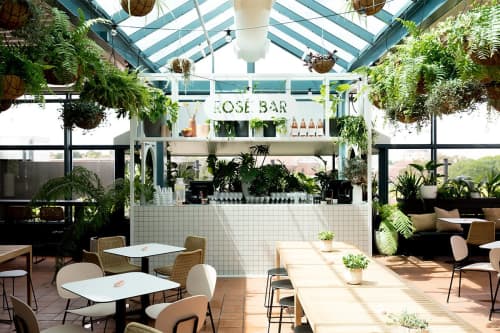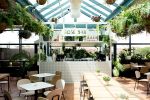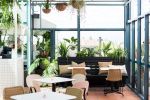 +11

BRIEF:
TO CREATE 'SYDNEY'S BEST ROOFTOP BAR', WITH A DESIGN THAT LEVERAGED AND ENHANCED THE SITE'S OCEAN AND HARBOUR VIEWS, WITHOUT WHOLLY RELYING ON THEM.
EXPERIENCE:
WHAT DOES IT TAKE TO LURE THE CROWDS FROM THEIR CBD PERCHES AND INTO THE WILDS OF MOSMAN?
A MEMORABLE EXPERIENCE THAT TRANSFORMS AN OUT-OF-THE-WAY MID-CENTURY BUILD INTO A DESTINATIONAL VENUE.
AT THE FERNERY, WE POLISHED A DIAMOND IN THE ROUGH, TURNING OUT A GEM OF A SPACE THAT CHANNELS A 70S-ESQUE GREENHOUSE AESTHETIC WITH A SPLASH OF HIGHBROW CHARM.
WE HONOURED EXISTING ELEMENTS, INCORPORATING TEAL AND TERRACOTTA TONES TO PUNCTUATE THE CRISP, WHITE TEXTURES THROUGHOUT.
IT'S A REPRIEVE FROM URBAN LIFE; A PLACE OF ELEGANT GREENERY AND UNABASHED DECADENCE.
"I am delighted to recommend Natalie and the Pony team for any high level design concept sought. Pony created a unique and sophisticated space, encapsulating the strategic brief superbly, ensuring the desired "wow" factor The Fernery required. Furthermore, the team remained active until the very end of the process and were flexible and dynamic with any variations to the project. I look forward to working with them in the future."
Gerard Boyle, CEO – The Fernery & Mosman RSL
PROJECT TYPE: HOSPITALITY
PROJECT SIZE: 850M2
PROJECT COMPLETION DATE: DECEMBER 2017
PROJECT PARTNERS:
CLIENT: MOSMAN RSL
HOSPITALITY CONSULTANTS: TULLY HEARD CONSULTING
PHOTOGRAPHER: PHU TANG
BUILDER: MAMMOTH PROJECTS
LANDSCAPE DESIGNER: MY SQUARE METRE
SIGNAGE: FREMONT CO.
Have more questions about this item?