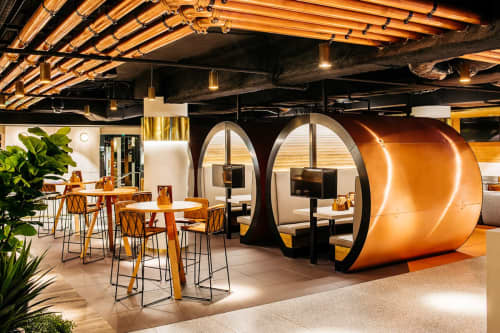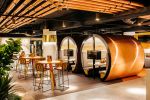 +11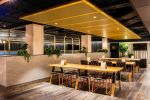 BRIEF
TRANSFORM AN EXISTING BASEMENT SPORTS BAR TO PROVIDE A UNIQUE OFFERING, FILLING THE GAP IN THE MARKET FOR A LOCAL VENUE TARGETED TOWARDS YOUNGER PATRONS.
EXPERIENCE
A DUSTY BASEMENT BAR TRANSFORMED. A WARM, INVITING EATERY SPRUNG FROM A CAVERNOUS UNDERBELLY.
FOUR TOWERING STAINLESS-STEEL TANKS HOLDING 4000 LITRES OF HOUSE-BREWED BEER SPEAK TO THE MICROBREWERY OFFERING, WHILE FIREPLACES PLACED THROUGHOUT THE VENUE REINFORCE THE SENSE OF GROUNDED COMFORT.
OUR DESIGN DIRECTION RESULTED IN A NEW SOCIAL HUB, SUCCESSFULLY ATTRACTING A NEW, YOUNGER CLIENTELE.
"I found working with Pony to be an absolute pleasure. They are very professional and bring an amazing feeling and difference in thinking, not seen with other designers. We will be using them again!"
Mark Condi
CEO – Bankstown Sports Club
PROJECT TYPE: HOSPITALITY
PROJECT SIZE: 850M2
PROJECT COMPLETION DATE: NOVEMBER 2016
PROJECT PARTNERS:
CLIENT: BANKSTOWN SPORTS CLUB
HOSPITALITY CONSULTANTS: TULLY HEARD CONSULTING
PHOTOGRAPHER: PHU TANG
BUILDER: PAYNTER DIXON
LIGHTING DESIGNER: HARON ROBSON
SIGNAGE: FREMONT CO.
Have more questions about this item?