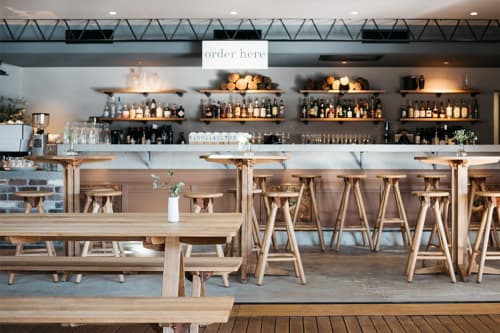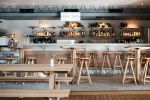 +14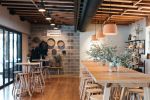 BRIEF
CREATE A FOOD AND BEVERAGE EXPERIENCE THAT TRANSPORTS PATRONS FROM URBAN SYDNEY TO A 'FARMER'S HOMESTEAD', REFLECTING THE FARM-TO-FORK MENU CONCEPT.
EXPERIENCE
HOW DO YOU TRANSPORT CITY LIVING PATRONS TO A SLOW-LIVING ETHOS WITH THE SWING OF A DOOR?
AT ACRE WE APPLIED THE SOFTEST OF TOUCHES TO REVITALISE AN EXISTING STRUCTURE, ARMED WITH UTMOST RESPECT FOR THE FOUNDATIONS. A PARED-BACK APPROACH RETAINED NOSTALGIC ELEMENTS, LAYERING RAW MATERIALS ON TO THE EXISTING STRUCTURE.
EMBELLISHMENTS ARE MINIMAL. TACTILE TIMBERS SUBTLY CONTRAST WITH CONCRETE AND CERAMICS, WHILE A COMMUNAL CHEF'S TABLE EVOKES THE RUSTIC CHARM OF A FARMER'S KITCHEN.
AN HONEST, INTIMATE AESTHETIC BROUGHT BACK TO LIFE.
"I worked with Natalie and the Pony team as the Project Manager on the Camperdown Commons Project. Pony Design Co. was able to work collaboratively with all of the varied stakeholders involved in the project to ensure that the final result met the collective vision for the project. I found that while Pony was very dedicated of the final aesthetic, they were flexible and solutions orientated around the method, by which the final aesthetic was obtained. The Pony team was also very available and responsive throughout the project ensuring tight time frames and budgets were met. In short, it was great working with the Pony team and collectively we produced a venue that the community has embraced and we are all very proud of."
Nathaniel Taylor
Canterbury Hurlstone Park RSL & Camperdown Commons
PROJECT TYPE: HOSPITALITY
PROJECT SIZE: 400M2
PROJECT COMPLETION DATE: JUNE 2016
PROJECT PARTNERS:
CLIENT: CANTERBURY HURLSTONE PARK RSL & VERTICAL LANEWAY
HOSPITALITY CONSULTANTS: TULLY HEARD CONSULTING
PHOTOGRAPHER: PHU TANG
BUILDER: BODEN PROJECTS
Have more questions about this item?