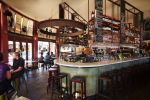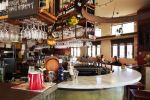 +13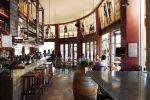 Duende Restaurant - Interior Design
Featured In Duende, Leederville, Australia
Duende is a tapas bar and restaurant in central Leederville. I designed the overall building and also had the opportunity to complete the restaurant fit out. My client had a lot of experience in hospitality and was very successful. He and I worked together on the design for Duende.
The form of the building and the converging streets and street corner influenced the internal layout.
The building has a rounded triangle shape at the front.
We resolved that the bar area should be central. This allowed for two separate zones of seating and seating areas around this central, pivotal bar.
The restaurant takes on the shape of the triangular meeting of the streets outside. From the corner we introduced a custom designed steel chandelier with lighting.
Which reinforces the central pivotal nature of the site and the position of the corner of the bar off the side. We used warm materials that would be left to age and weather and have an age patina to them. Then there is a lightness to the central bar area and suspended shelving.
The kitchen is exposed in a slot at the back so you can see the chefs at work. There is a connect to what they are doing. Doors that would open on all 3 sides and connect the internal areas of the bar to the street.
Have more questions about this item?