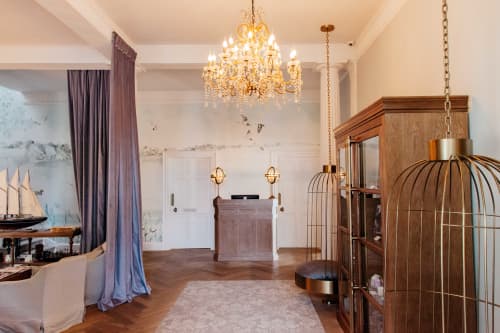 Image credit: Ellie Tsatsou Studio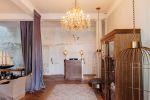 +13

Lympstone Manor - Interior Design
To create Lympstone Manor, Meraki Design Interiors brings a contemporary aesthetic to the 21 bedroom hotel which evokes a sense of escapism. The sophisticated interiors bring warmth and sense of place to the hotel, while reflecting the poetic beauty of the surrounding area. With Michael's close ties to Devon, Meraki design worked closely with local artisans to create interiors that celebrated this beautiful area of the world as well as bringing them right up to date with contemporary touches throughout.
The interior design was guided by a philosophy of restoring and preserving the integrity of the original Manor house. It respects the history of the building and celebrates it by reinstating architectural elements that were damaged and by doing extensive research, using old photographs and moulds to reconstruct and restore the property. The estuary and Jurassic coast led the colours of the public areas and have created a serene mood throughout the hotel. The interiors draw the eye out to commemorate the view instead of competing with it. The colour of the tide continuously changes from golden hues, to soft dove blues to champagne.
Michael Caines had already settled on using the birds of the estuary as room names, which again informed the basis of the colour schemes of all the rooms. Meraki Design Interiors referenced classic furniture as a basis for the style of furniture then deconstructed it into simpler more contemporary forms in plain fabrics that converse in a textural play.
Meraki did extensive background research basing the design principles acutely on our client's needs, the history of the property and its context. This approach generated a firm foundation for these beautiful spaces that have an exclusive narrative, which is understated and timeless with attention to the slightest detail.
The Object d' Art further reinstate the uniqueness of the property with found antiquities that are all hand selected and thoughtfully displayed creating a sense of escapism in luxury that is welcoming and calm.
Have more questions about this item?