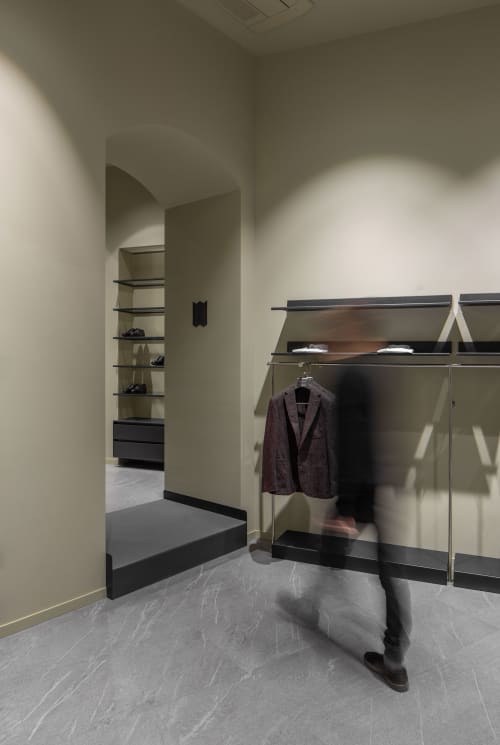 Image credit: Yevhenii Avramenko

+15

Featured In Ramsey, L'viv, Ukraine
1a# Renovation of Men's clothing store in Lviv, Ukraine. In this project we payed attention to custom production, color selection for additing and accentuating furniture elements and clothes. Bright lights and shadows perfectly supplement locally produced elements. Facing tale and lights were the only bought things that decorated this space. All the rest was custom production. We had limited time margins - only two months. Renovation also included electricity and heating changes, reconstruction of walls.
One of the main focuses was made on tie, shoes and belt racks. Bended metal forms, basil elements, lights on shelves, glass, veneered frame parts are in the materials used to create these elements. Wardrobe zones were highlighted with burgundy color and made of veneered oak. We used one tone coloration in this space and it was interesting to observe and understand how the color can influence on space. Arched forms with the height of 2.8 m, circled pass of the store in the old venue, all together gave a great opportunity to organize the space for customers. High ceilings of about 3.8 m complemented everything together. This project was a great experience of working with wood, glass, metal and complex production.
Have more questions about this item?