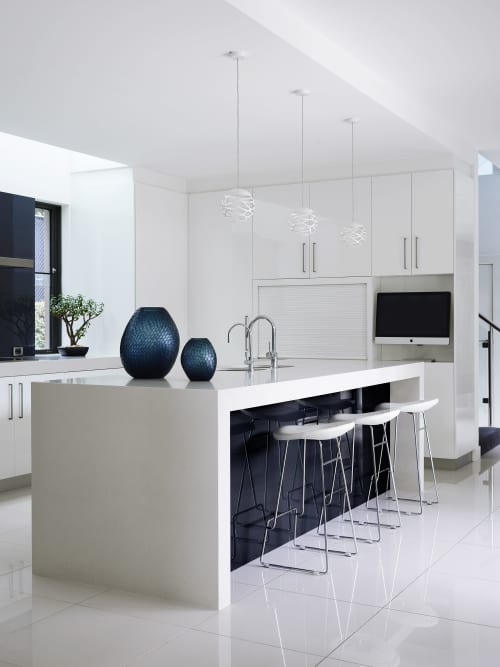 Image credit: Anson Smart

+6

Bold and exciting, this house is a chameleon; it's both an entertainer's dream and a relaxed family abode. Inside spaces meld seamlessly with the home's expansive alfresco areas.
The interior redesign took place in a contemporary, however dated home, with an original brash colour scheme of pink and yellow combined with honey timber and uninspiring detailing. Our clients from the first day they moved in knew it was time to change the whole look and feel of their new home. Having worked with this client on a previous home and also on a commercial office refurbishment, KOEDAM DESIGN was commissioned immediately to commence work.
This project included a full house interior redesign over a two stage timeframe. This included a four bathroom renovations, creative space and library, swimming pool cabana and bar, kitchen, billiard room, home theatre, music room & wine storage, family living and dining space, cinema /media room, guest suite, main bedroom suite, three children's bedrooms plus the exterior alfresco area. Our interior design brief also involved all joinery details and design, specifications of finishes & materials, paint & wallcovering specification, furniture and fabrics, lighting and accessories.
The brief given to Susan Koedam was that they longed for a contemporary & luxurious home, where all members of their large family would feel welcomed and relaxed, as well as a place to entertain friends and family. The client wished to use the space as their sanctuary and allow for quiet areas to read in or sit by an open fireplace or as parents, have a quiet conversation together in the pool cabana.
The home is set in a leafy North Shore suburb of Sydney, in a very private battle-axe block, surrounded with beautifully sculptured gardens, where water plays a significant attribute to the homes sanctuary. The garden and water plays an important part of the borrowed vista of the interiors.
Simple layering of textures and fabrics formed a soft background to this hardedge contemporary space. Light pours into the spaces so finishes needed to combine reflection and matt surfaces. ​A bared down palette of white, deep grey, navy and silver was specified.
We worked closely with our clients throughout the whole design stages; throughout the building process and along side the builders and trades. KOEDAM DESIGN is proud to have delivered our client's completed vision.
Have more questions about this item?