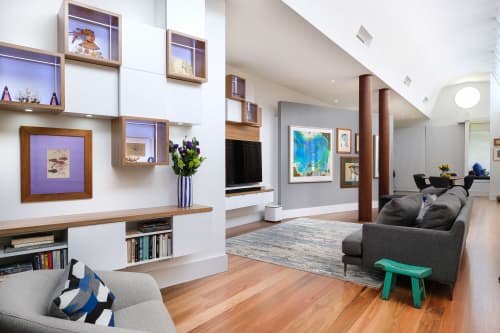 Image credit: David Smyth - Artful Shots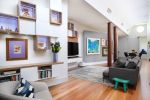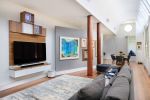 +2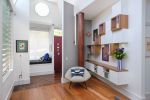 When renovating this single level 1990's house, it was important that the proposed interior design scheme, honour the home's existing architecture, as well as incorporate the lifestyle of the new owners. Paint colours were chosen to emphasise the simplicity and calm of the light-filled spaces and to sit alongside the new timber finishes.
The innovative wave form ceiling was a major factor in choosing a warm White as a key colour. By using the paint colour on the ceiling and bringing the colour down onto the walls, it enhanced the space's height, adding layers and complementing the building's sculptural design.
Another major consideration when selecting the paint colours for the walls, aside from layering the different wall planes and room intersections, was to emphasise our client's collection of eclectic South American artwork. With this in mind, we looked for an accent wall colour that could be used on the gallery wall; a mid grey not only balances the crisp white walls, but the tranquil hue complements the feature joinery, timber floor and the colourful artwork placed on it.
With interesting architectural elements and shapes, the design was to reflect these details. Koedam Design started with reviewing the floor plan. The original layout had an existing freestanding fireplace in a low curved wall that cut the floor plan of the lounge room and dining area. Another issue was the dining room looked into the guest/children's bedrooms & bathroom. The fireplace & curved wall was demolished and an accent wall was extended and a glass cavity slider added to contain spaces and give privacy to bedroom areas.
The existing flooring also cut the spaces. The existing flooring of carpet and laminate floor was removed and replaced with one uniform flooring of solid Spotted Gum timber boards and all skirtings were replaced. The new floor visually enlarged the space.
The client requested the design of custom joinery to the entry library space and for a TV entertainment unit. Koedam Design treated the design of this joinery as an intrinsic part of the house design. The unique 90's postmodern aesthetics was the influence for the joinery designs. Koedam Design and the client called it, 'the jewellery box', illuminated display boxes and tiered storage boxes of Spotted Gum and white polyurethane sit graphically together as a sculptural wall piece.
Custom made furniture, including an oval Australian native Spotted Gum dining table & designer lounge and custom circular ottoman to the lounge space were commissioned for the client.
By specifying a subtle and modern colour palette, and pairing it with natural timbers and an eclectic mix of furniture styles, we were able to produce a timeless scheme that is sympathetic to the home's origins.
​
Have more questions about this item?