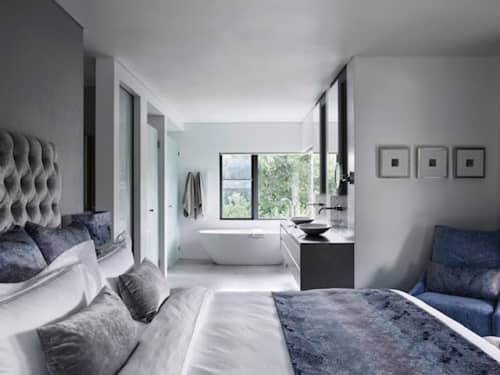 Image credit: Anson Smart


+5

Following a full house interior design, four bathroom renovations were part of the final stage, which also included the main bedroom ensuite. The ensuite redesign took place in a contemporary, however dated home, with a brash colour scheme of pink and yellow combined with honey timber and uninspiring detailing.
The brief given to Susan Koedam was that they longed for a luxurious hotel room feel, combined with a day spa appeal. The client wished to use the space as their sanctuary to instil a sense of calm and relaxation, a place to spend time together as a couple.
The home is set in a leafy North Shore suburb of Sydney, in a very private battle-axe block, surrounded with beautifully sculptured gardens, where water plays a significant attribute to the homes sanctuary. The garden also plays an important part of the borrowed vista of the interiors, including the ensuite.
Simple layering of textures formed a soft background to this hardedge contemporary space. Light pours into the spaces so finishes needed to combine reflection and matt surfaces. Our bathroom concept to our client presented to them a clean design and finishes with an ethereal and calm effect, that was elegant and refined in all details. Once they entered their sanctum they were transported to that luxury hotel suite.
Have more questions about this item?