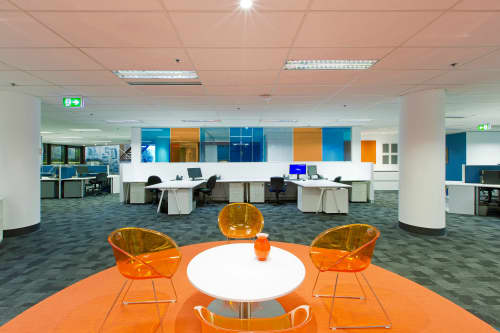 Image credit: Mark Burrough - Burrough Photography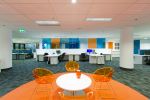 +4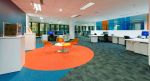 Ground Floor Engineering Company 1 - Office Fitout
KOEDAM DESIGN's latest project for our client was for their move to two floors of a Chatswood tower building, which was close to the railway interchange. Our project, as profiled here, was instigated after our client purchased a civil engineering company with an 80 year history in the industry. Our clients, came to the conclusion it was time to move, due to this growth and therefore locate both companies into one site.
Each company's individual and separate identity was paramount in the design concept and although each company was on individual floors, they were linked by an internal staircase.
There was a linking design concept and atmospherel to the fitout, but each company's corporate colours were the design difference. Circular coloured ceiling panels were installed to bring in spaces for staff and client discussion areas. Circular coloured features were also cut into carpet tile flooring, linking all areas with a dynamic and fun feature that was reminiscence of our client's logo. Corporate colours, were bright and featured heavily throughout the scheme against whites and charcoals.
The engineers company's interior fitout honoured the history and therefore a historic mural was installed on a new glass privacy screen to the staircase, as well as displaying historic items and architectural models. Coloured glass panels were installed to add a contemporary and fun feel to a traditional and historic company.
The first floor housed our client's company with open plan offices, staff breakout spaces, management offices, meeting rooms and the main boardroom, hot desks plus the CEO corporate suite. A large circular banquet and recreation breakout space was located central to all, so that the engineering company could use the space and join both company's staff for their meetings and events.
An open kitchen sat central to the open work space teams. An open high bench and stool space was located close to the kitchen and TV monitor. These spaces were important to incorporate into the work spaces as my client had a very strong ethos of social events and staff events for these companies.
Have more questions about this item?