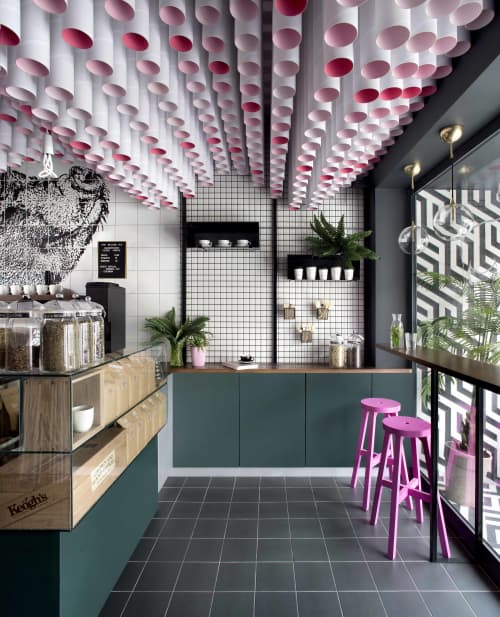 Image credit: Barbara Corsico


+5

Featured In Pot Bellied Pig, Dublin 6, Ireland
The brief for this design was to create a fun, exciting and vibrant café space to tie in with the branding and name, and equally appeal to the broad demographic in the urban Rathmines area. The concept KLD presented was hugely inspired by the pig. A large part of the brief was that the business would be focused on catering to the young, professional, brunch market so the design required a cool aesthetic with maximum capacity for covers, providing both takeaway and eat in options, as well as an outdoor area to enjoy.
The main challenge of this design was the small space and how to create multiple experiences within the one small space. The solution was clever zoning, identified by stark changes in materials. a particularly innovative design installation of tubed lighting was designed by KLD for the front, initial entrance part of the café.
Texture and tactility were imperative to the overall design. KLD used a mix of tiles, brass, velvets, leather and lush planting for interest and excitement throughout. Nature and greenery were drawn in to enhance the palette of pink and green. The building's limited natural light and a long orientation encouraged the design team to add a lot of mirror in order to bounce light and reflect the space, giving the illusion of a wider frame to the café. A mixture of velvet caged booths and green leather booths provide cosy seating and play on that idea of different experiences. Another side to creating different zones, related to the vast market in the area. Clientele was likely to be varied and so seating was design to cater for everyone from groups, couples, singles and families.
Have more questions about this item?