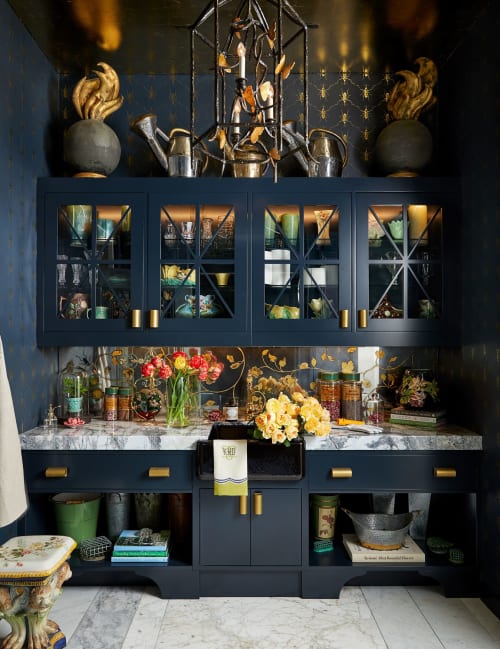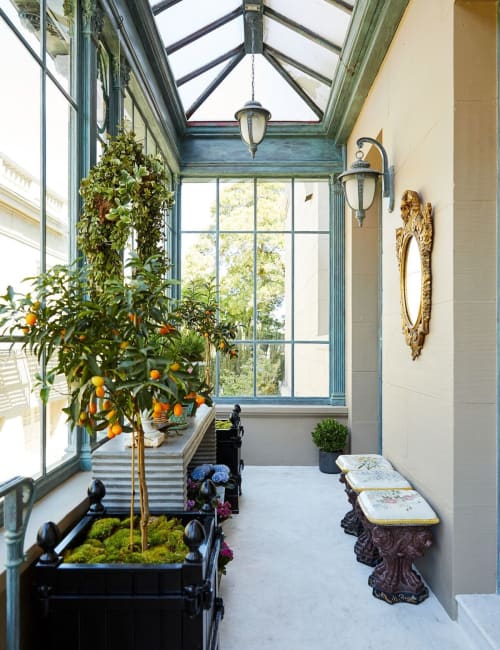 +8

Item Details
Noted Bay Area interior designer Kari McIntosh is proud to present "Fleurs et Orangerie" at the 2019 San Francisco Decorator Showcase. Inspired by 17th century France and the Palace of Versailles, Kari's floral arranging room is an elegant, creative refuge for the woman of the house; the atrium provides a serene workspace to gather and trim cuttings from the garden.
Kari's space showcases an eclectic collection of antique McCoy pottery, contemporary ceramics by local artists (created exclusively for SF Showcase,) crystal vases, and space to assemble ornate floral presentations. Marble countertops integrated with the latest technology prevent marble etching and staining, while the sleek black apron sink, custom colored faucet, and gilded entomology themed wallpaper bring the drama. A verre églomisé backsplash and gold-leaf ceiling harkens back to the grandeur of the French Baroque period.
In the atrium, an outdoor table is flanked by a pair of citrus trees in the boxes created in the same design as the Versaillis originals. The stone flooring and verdigris glass greenhouse skeleton are restored to their former glory yet with honor for the patina of over a century of use.