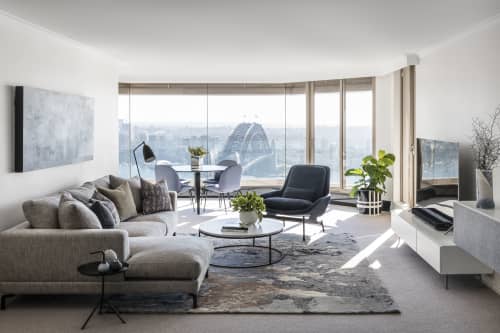 Image credit: Felix Forest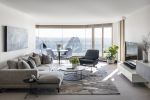 +7

Quay West Penthouse - Interior Design
With uninterrupted panoramic views of the Sydney Harbour Bridge and Opera House, Quay West Towers are perfectly positioned in one of the most idyllic enclaves of the city.
Despite its 'penthouse' persona, this apartment had low ceilings. We sought to maximise the height, light and views by keeping the walls white and using a tonal palette of moody greys, charcoals and dusty blues inspired by the colours of the harbour on a cloudy day.
The envelope of the apartment was stripped, walls repainted and floating sheer curtains installed to add softness and light to the bedrooms. ILI created joinery to disguise, if not hide, the large TV that had to be an exposed part of the living room. Art also played a big role in the overall aesthetic, and with the owner having left his previous painting collection overseas, he was happy to start afresh.
The overall result is a refined apartment perched high above the Sydney skyline that envelops, nurtures and revitalises its residents. It's contemporary and paired back without feeling too minimalist or modern, and feels masculine but has warmth and softness.
Have more questions about this item?